Astounding, May 1958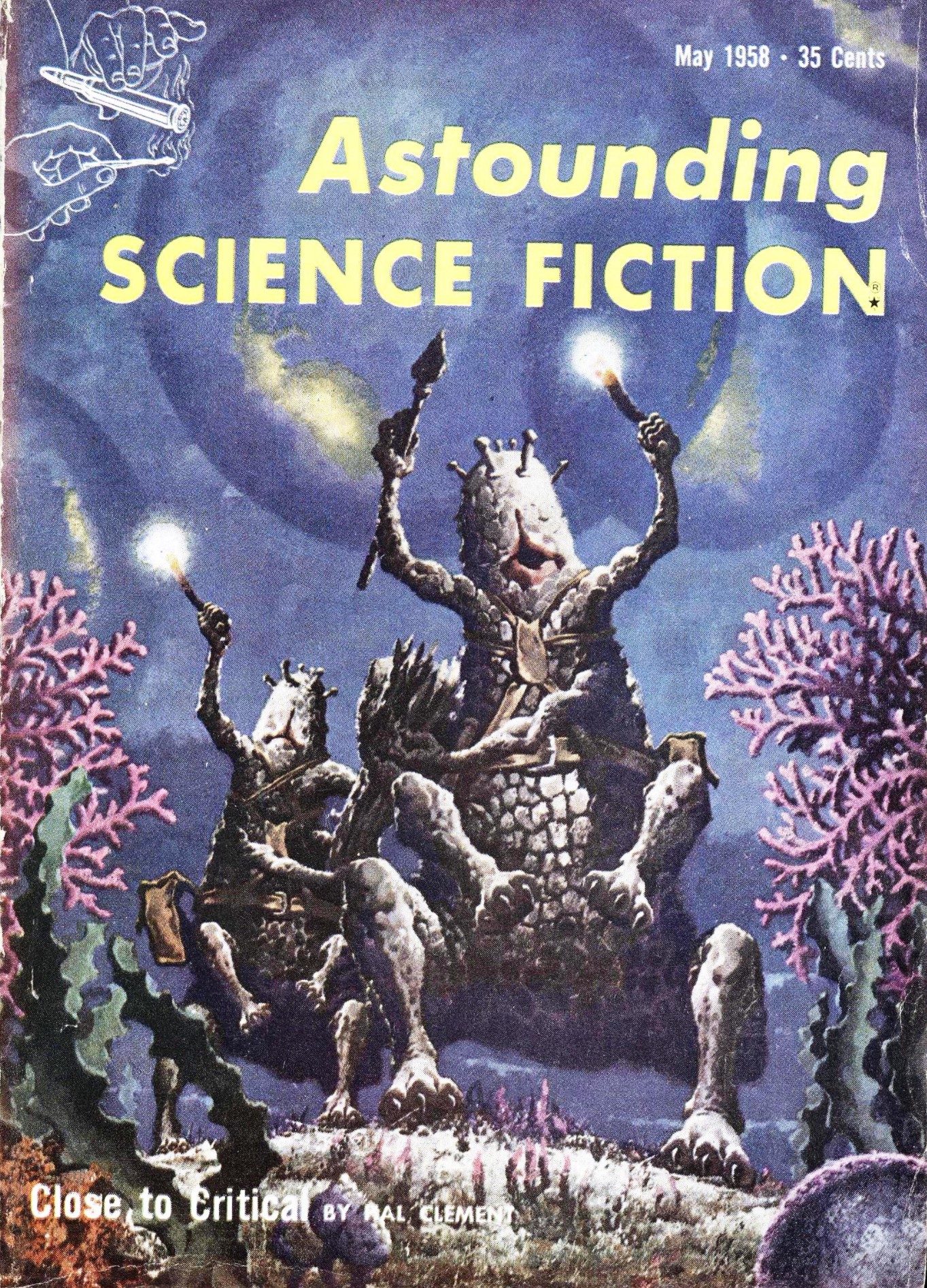 Hal Clement - Close to Critical (Part 1 of 3)
As with the Poul Anderson serial that ran from Feb-Apr in this year's Astounding, I read all three parts of this Hal Clement novel directly after each other. This story is typical Clement, as the concept is based on the nature and challenges provided by a very un-Earth-like planet. In this case, the planet has a high gravity (approximately 3-4 G), surface temperatures of about 380 ˚F and extremely high atmospheric density (approximately 800 atmospheres). The end result is a world in which water is a superheated liquid with a density very similar to the air, and which that falls each night as slowly descending 50-foot raindrops. Living on the planet are 8-legged sentient beings at a stone-age point of development. A robot was sent to the planetary surface by human researchers circling the planet, and this robot 'raised' a collection of the indigenous 'people' to act as go-betweens for the humans and rest of the population.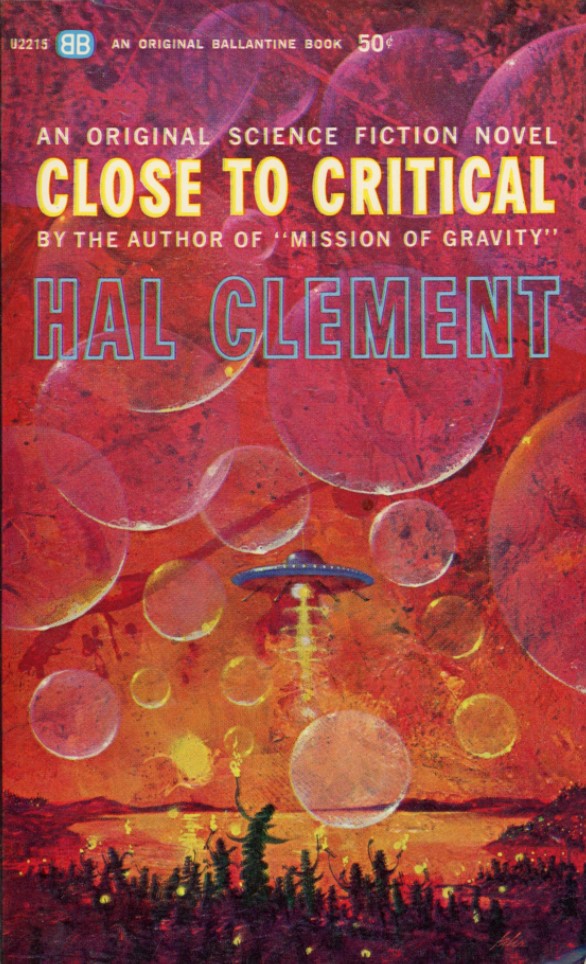 Set against this 'hard-SF' background, a shuttle craft crash-lands on the planet with two children on-board, and with no apparent way to get back into orbit, it takes the help of the natives to solve the problem. This serial started rather ponderously in this May issue, with lots of background, rather confusingly presented, and not a lot of excitement. It improved somewhat in the following issue, but ultimately ended rather weakly. It's strength is the concept of the planet, but this is not enough to sustain a novel-length serial, which was otherwise rather sterile. It didn't seem reasonable that the robot could raise the natives, the relationships between different aliens was simply not that interesting and the kids who had to be rescued were paper thin characters we don't care about that much. Characterisation was not one of Clement's strengths, as others have noted before, and overall this was not an especially good story. The illustrations by H. R. van Dongen were pretty nifty though.
Gordon R. Dickson - The Question
This was great. A small band of humans are on the retreat on an inhospitable rocky world from a full platoon of the alien race they are warring against. The men hole up in an armoured and defendable redoubt in the mountains, but they don't have supplies to last for long and one of their number is wounded. The dialogue, pace, and alien setting is all well handled, making this highly readable and engaging. Dickson rarely seems to trip up in his tales, which tend, like this one, to have something to say about humanity's warlike nature and strength of purpose. This tale explores how the men all come to the same conclusions and implacable aims, each from completely different philosophies, suggesting there is an essential truth we all understand, even if we get there in different ways.

Charles V. De Vet - Special Feature
De Vet came up with a corker of a novella in his collaboration with Katherine MacLean in March '58. In many ways, this continues his purple patch, as its a neat idea, and is engrossing and exciting. A viscous predatory alien, from a catlike race, lands in snowy Minnesota and immediately starts to attack and feed off the people of St Paul. Taking a disguise, the alien masquerades as a human woman and holes up in a hotel between her ventures outside to feed. But unknown to her... she's on camera! A vast number of cameras cover city streets and the interiors of buildings, and a TV company leaps into action to accept responsibility for the alien from the police, and film her every move. The idea of the media assuming a role in dictating morality and being inescapably everywhere was ahead of its time, and seems prescient now. The only downside to this tale is the degree of sexism, which sticks out these days like a sore thumb. But that aside, and taking this as a '50's SF tale, it's still superior. Perhaps a further collaboration here with MacLean would have smoothed the rough edges off on that front, which would have made this a potential classic.

Frank Herbert - You Take the High Road
In the far future, a great human interstellar empire broke apart from war, and led to many worlds regressing and then redeveloping in isolation, until they are rediscovered by new imperial investigators, seeking to reconnect lost worlds. One investigator on a seemingly peaceful world brings in a specialist as he doesn't trust that the people of the rediscovered world are genuinely peaceful. The idea is better then the execution, and would have benefitted from greater depth and world-building, perhaps in a longer tale. Overall, it's a little so-so.

Stanley Mullen - Fool Killer
An innocent man, convicted of murder is sent to work in the asteroid belt - effectively a death sentence from radiation poisoning - and after a few years there he is given the news he has cancer and has a month to live. He learns the State are going to overturn his conviction and pardon him, but it's too late... until he's given a new chance at coming back to life through experimental medicine. At this stage, the tale takes a dramatic turn. Having started as a fairly typical SF story off-world, it turns into a stone cold classic of SF drama and speculation. A computer is given the job of deciding the right justice for his unjust incarceration. It's deemed fair that, as he paid the price for a murder he didn't commit, and no-one can take that pain away, he now gets one 'free murder' he can commit without penalty. Will he kill anyone, how does everyone react to him, is he safe? The concept and exploration of ideas through SF here is absolutely top-notch. This is, I think, a classic SF story, though I'd not heard of it before, and makes an entry into my top 50 SF short story list. An absolute blinder.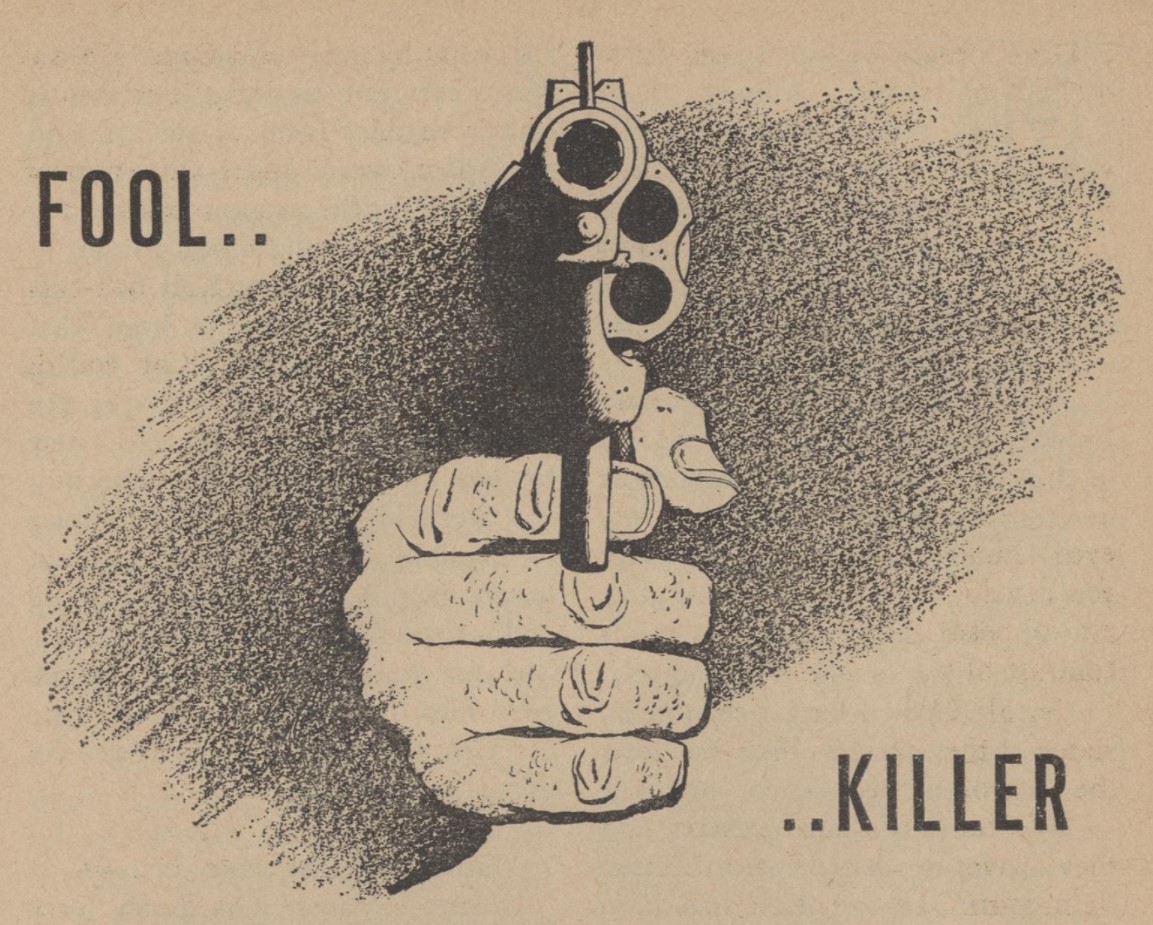 John T. Phillifent - One-Eye
This was written under the pseudonym John Rackham, a name used by John Phillifent several times. I'm not sure why he would necessarily use a pseudonym here, because it's really good. A huge, strong, man of limited intelligence, a little like Lennie in Steinbeck's Of Mice and Men, can see into the future a few seconds ahead, prior to any violent injury occurring to others. But whenever he tries to warn people, they see him as a jinx, or the culprit of the accident. It's well written and an engaging premise. The idea presented here is that having any skill or ability outside the norm wouldn't necessarily be a good thing.

Overall Thoughts
This was a cracker of an issue. The serial was perhaps the weakest piece of fiction in it (with perhaps the exception of the Herbert), as the stories by Dickson, de Vet and Phillifent were all strong, good reads with great ideas, and the Mullen was exceptional. Overall, this was certainly the strongest issue of Astounding so far from '58. There was an interesting poll result feature toward the back that showed the demographic breakdown of Astounding readers. It made fascinating reading, especially as it recorded separate statistics for men and women. Looking at educational level, 47.2% of male readers and 47.7% of female readers were college graduates (the same) and of these 21% of men majored in a physical science, and 17% of women in physical sciences. The interesting differences come in education and biological sciences - both clearly higher for women -and in engineering which 29% for men majored in, and which no women undertook. Clearly engineering was still a bastion of male bias. Overall, 88% of reader poll responders were male.