Planet Stories

- January 1951

Planet Stories published some of the best 'pulp' fiction in the 1950's.
In this January 1951 issue, the cover story was by "A. A. Craig", better known as Poul Anderson. The contents include another story by Anderson as well as shorts from Alfred Coppel and J. T. MacIntosh.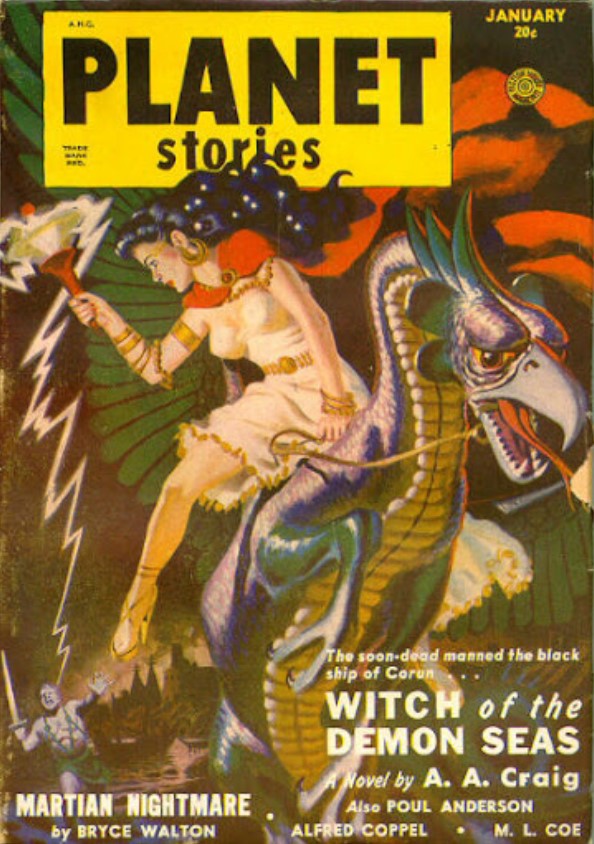 Witch of the Demon Seas - Poul Anderson
With Anderson writing as A. A. Craig, this is sword and sorcery in the grand old tradition and reads as a fond pastiche or tribute to the Conan stories by Robert E. Howard. The Conan-like main character is Corun, a Conahurian pirate (even the names are similar). Such stories were never high art, but they certainly have an energy and inventiveness that sweeps the reader along. The rather wonderful cover of the magazine shows the princess Chryseis, the titular witch of the story, who secures the services of Corun to guide her and her sorcerer Shorzon to the land of an amphibious people who will aid her to take over the known world. Needless to say, my life has not become deeper by reading this, but I very much enjoyed it. Anderson took the pseudonym of A. A. Craig as he also had a SF story in the same issue, and perhaps was trying to build his reputation for SF, and away from sword and sorcery pulp. A charming diversion to be sure.
Tiger by the Tail - Poul Anderson
This was the very first time Anderson's famous character Dominic Flandry was seen in print. The story later made up part of the subsequent Flandry collection, Agent of the Terran Empire (1965). You can tell this is very early Flandry, as the action starts on a spaceship (SF) but morphs slightly into a sort of sword and sorcery setting (a castle run by barbarians who have recently acquired spaceship technology from other races). Flandry is rather two-dimensional and it sets up the character for future use rather better than providing an interesting story this time around. However, as a historical document of his first appearance and an early example of Anderson writing SF, its a passable and interesting read.

Task to Luna - Alfred Coppel
A very short story, this isn't much to shout about, as its too short for any plot or character development and the ending is daft under the guise of being clever. Filler, really. Coppel was a regular contributor to magazines during the golden age, having more than 50 SFF stories published between 1947-1956. He didn't garner any major awards or award nominations, however. Indeed his greatest writing success was probably the non-genre thriller novel Thirty-Four East (1974)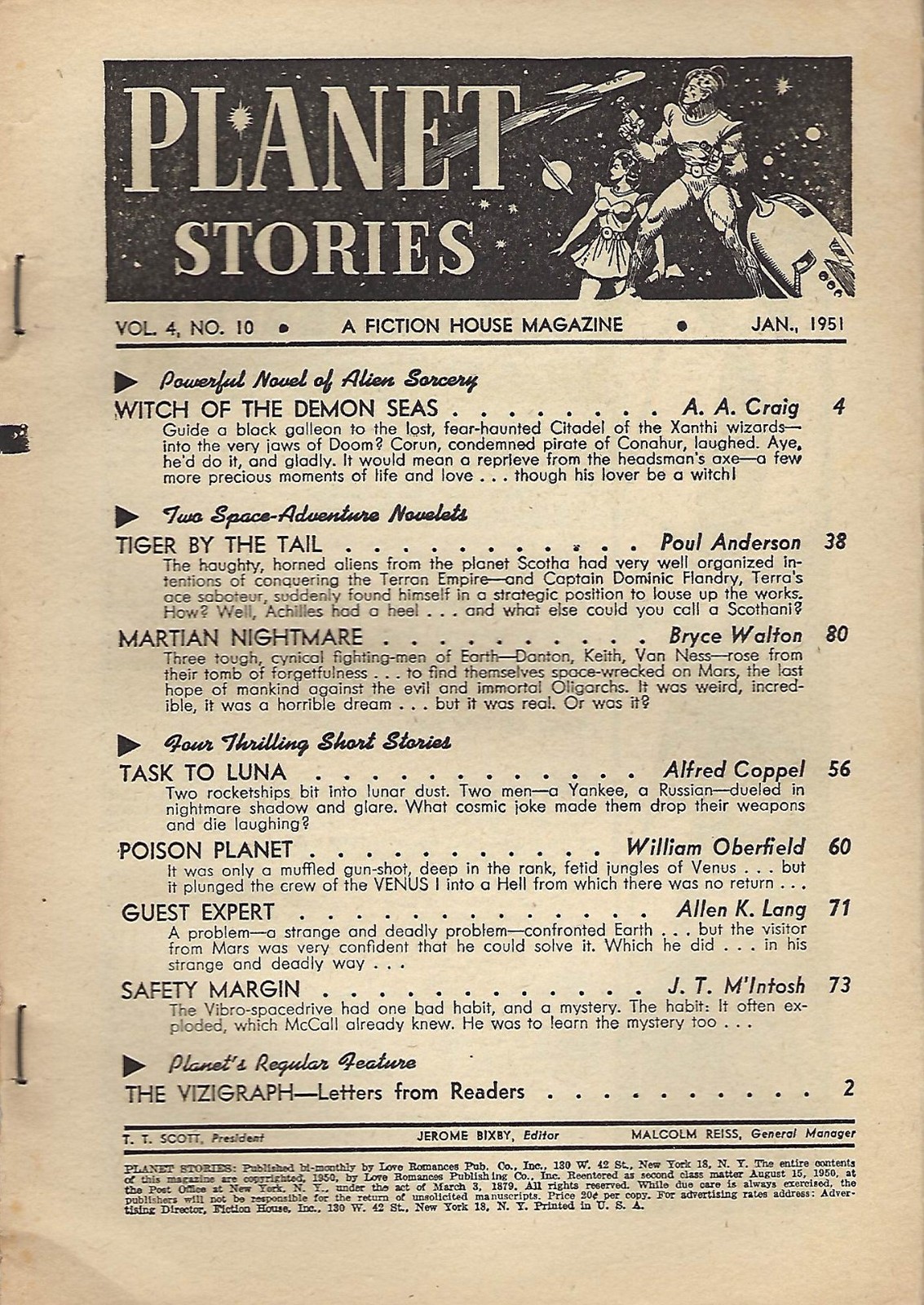 Poison Planet - William Oberfield
This is an 'old solar system' tale, set on a warm, wet, entirely habitable Venus. The first travelers to the planet arrive to find all the animals and plants are poisonous and rapid plant growth prevents them growing their own food. Unable to return to Earth for a year, they slowly sink into starvation and barbarism. It's very pulpy in language and theme and certainly it's of its time, but it's pacy, entertaining enough and I liked the ending. Oberfield only published 4 short stories, between 1947 and 1951.

Guest Expert - Allen K. Lang
A flash-fiction piece by Lang, Guest Expert was anthologised in the 1970's by Brian Aldiss. This is a SF story of the 'shocking idea' variety. Too short to be involving, its meant to either raise a chuckle or a gasp. A man from Mars solves the population problem for the Earth, but not in a good way! It is interesting to consider that the population has increased enormously in the 70 years since this little fable was penned, so we haven't listened to the likes of Lang much, clearly.