1950's - Optimism & Expansion
The 1950's saw a rapid expansion in the pool of authors published in Astounding, with the top contributors accounting for a lower percentage of story content than in the previous two decades - more and more writers were providing quality SF, and many famous names first published in the magazine in this decade.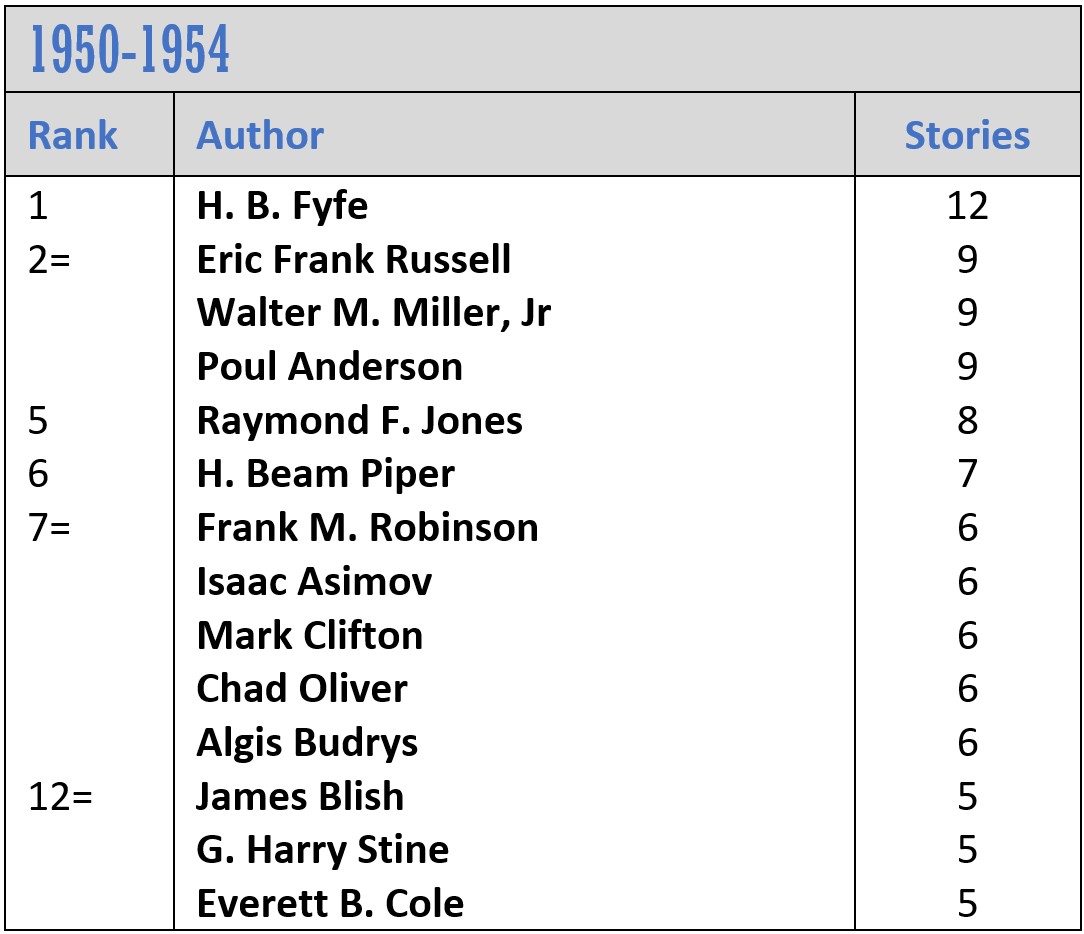 The period 1950-54 saw the emergence of several well known names in SF. Among those to get their first publication in the magazine in these years were James Gunn, C. M. Kornbluth, Frank Herbert, Philip K. Dick, and Gordon R. Dickson. Another 'inductee' at this time, was Walter M. Miller, who not only started to publish in Astounding, but makes it to joint-second in the rankings, rattling out nine stories in quick order.

Leading the rankings in this period is yet another name that has dropped from popularity. Like Malcolm Jameson and George Smith before him, H. B. Fyfe (1918-1997) seems to have been a reliable go-to author for Campbell who helped fill copy, but who's work has not been reprinted much since.

Eric Frank Russell's first sale to Astounding came way back in Jan 1941 and he had 10 stories published here in the 1940's. His output in the 1950's started just as brightly. Poul Anderson started contributing in 1947, but like H. Beam Piper, really hit his stride this decade. Other famous writers who started to make waves with numerous quality stories included Algis Budrys and James Blish.

Just missing out on top ranking list (with 4 published stories each) were two highly-regarded female writers, Katherine McLean and C. L. Moore. On the same number is Jack Williamson, who is starting to look like a bit of a veteran, having first published in March 1931. Isaac Asimov retains his place in the list, despite predominantly publishing novels at this time.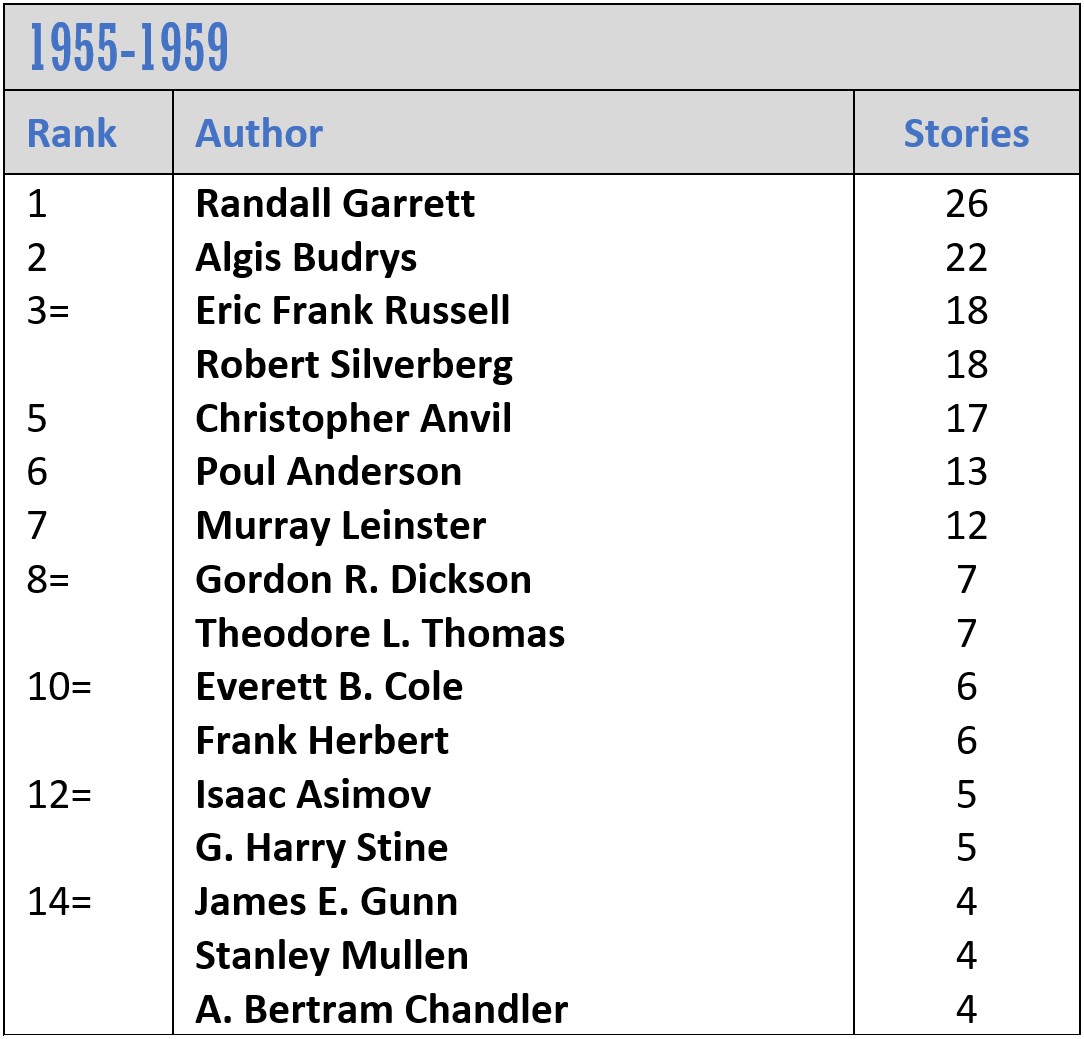 The second half of the 1950's saw the first time in print in Astounding for several more famous names, including Kate Wilhelm and Harry Harrison in 1957, and most notably, Robert Silverberg in 1956 (at the age of 21), who then successfully submitted many stories to place joint-third in this period, and fifth overall for the decade.

Campbell's go-to author by this period was no longer Fyfe (did such authors get frustrated with Campbell, or did Campbell simply move on?), who seems to have been supplanted by Randall Garrett and Algis Budrys.

The prolific Eric Frank Russell has been joined by this time by Christopher Anvil as a regular contributor to the magazine, with Anvil having his first story printed in Feb '56.

While some of the same authors abound as in the previous 5 year period, such as Poul Anderson, and Isaac Asimov, others have stopped contributing, such as Walter Miller and H. Beam Piper.

Looking at the decade as a whole, it is interesting to note that van Vogt, George Smith, Hubbard and Jameson have now disappeared from Astounding.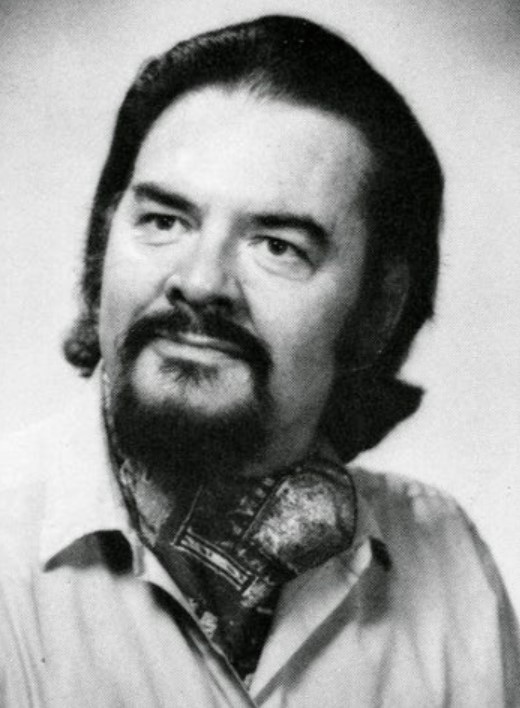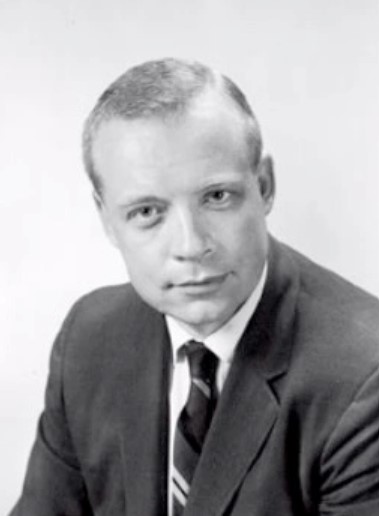 Randall Garrett (1927-1987) tops the chart for Astounding stories he published in the 1950's. He wrote many pieces in his own name, as well as numerous stories co-written with Robert Silverberg under the pseudonym 'Robert Randall'. He is noted for helping Silverberg learn his trade of professional writing. Garrett was nominated for both Hugo and Locus awards, but did not win.
Algis Budrys (1931-2008) first published in Astounding in Nov 1952, and in the latter half of the decade was present in its pages almost every other month, except in 1958, when he didn't feature. He's most famous these days for his classic novels Who? (1958) and Rogue Moon (1960). Nominated for numerous Locus and Hugo awards, he won the First Fandom Hall of Fame award in 2007, and the SFWA Solstice Ward in 2009.
The final top 10 ranking table for the decade, therefore ​looks like this: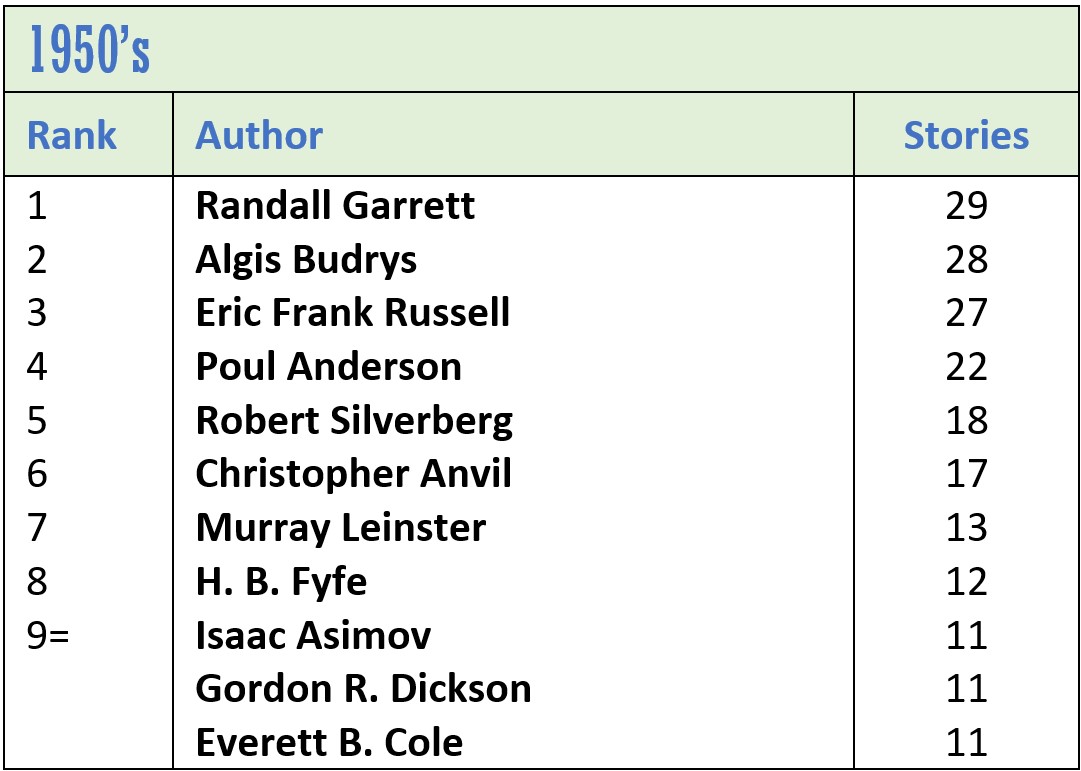 Top Contributors to Astounding in the 1950's:
Top: Randall Garrett
Runner Up: Algis Budrys
Third Place: Eric Frank Russell