Dangerous Visions and Again, Dangerous Visio​ns
Classic SF Anthologies edited by Harlan Ellison
Published in 1967, the SF anthology Dangerous Visions, edited by Harlan Ellison, has legendary status in the genre as being probably the finest and most influential anthology of new SF stories ever produced. It set a very high standard, several of it's stories won major awards and the author list read like a who's-who of 20th-century SF. The success of the book led to Ellison repeating the editorial feat with an even larger sequel anthology, Again, Dangerous Visions in 1972. Each volume contained only one story from each contributing author, and there was purposefully no overlap in authors between the original anthology and its sequel. Dangerous Visions contained 33 stories, while Again, Dangerous Visions had a whopping 46. Ellison provided significant introductions to each story.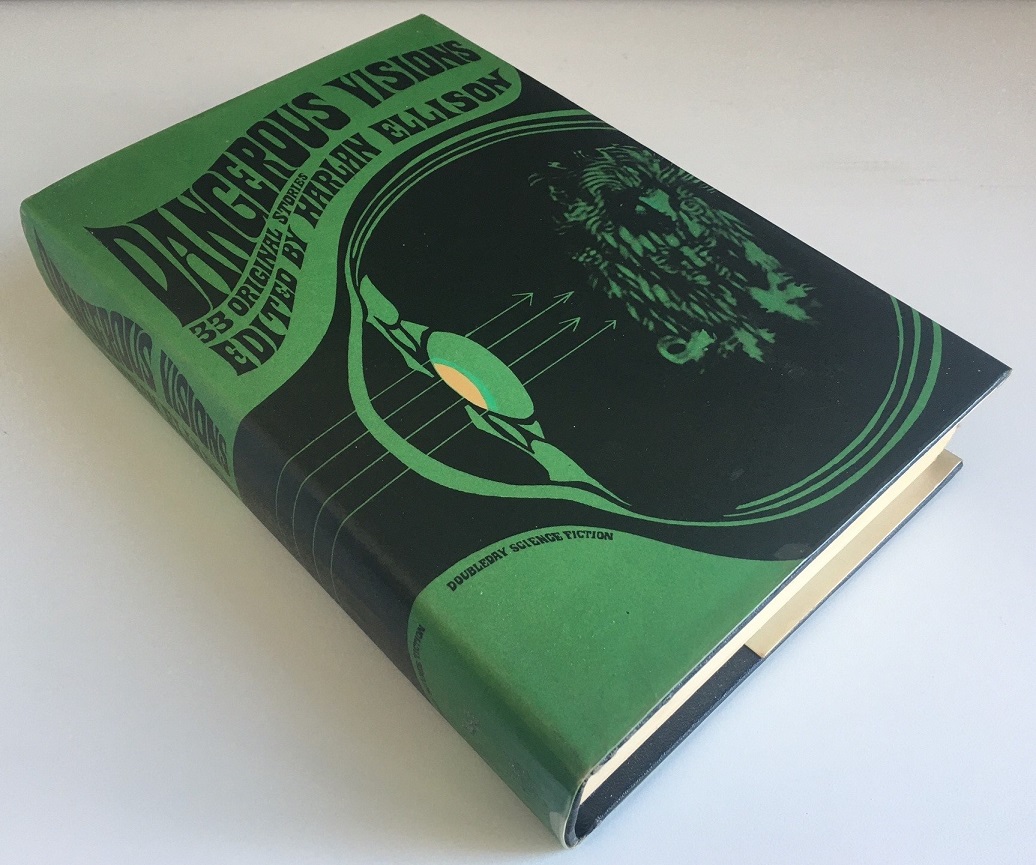 Dangerous Visions
Evensong - Lester del Rey
Del Rey indicates in his afterword that he see this, not as fiction, but as allegory. I'm not sure about that, as I think it's both. A short story, it tells of God, harried across the galaxy by the expansion and rejection of man. It's really quite effective and will prove to be memorable, I think.

Flies - Robert Silverberg
This is a brutal story, in which a man is given the ability to take and transmit intense emotions by an alien power. He is sent back to Earth, where he feels compelled by the aliens to injure and devastate his ex-wives. Are we compelled to drain and suck the nature from those around us, like emotional vampires, or are our lives defined by a constant struggle to prevent suffering? Powerful stuff from Silverbob, who in 1967 was just entering his strongest decade writing SF.

The Day After the Day the Martians Came - Frederik Pohl
This tale, from Pohl, is very successful, I think. Martians have been discovered, and are visiting Earth. Reporters, tourists and hotel workers are gathered late at night at a motel near to Cape Kennedy to be close to the Martians' arrival. Several men trade jokes and insults about the appearance and likely intelligence of the aliens, drawing parallels with racist jokes aimed at American blacks. The final lines are very strong, making this is a low-key but superior story.
Riders of the Purple Wage - Philip José Farmer (Hugo Award Winner - Best Novella)
Farmer's lengthy novella has come to be regarded as a classic of the new wave. Written in confusing 'modernist' prose, the style is reminiscent of James Joyce's rather challenging books, Ulysses and Finnegan's Wake. Indeed, the main character, an artist in a surreal future, is named Winnegan. The 'purple wage' of the title, refers to the unearned income everyone gets from the state from birth. Without a reason to work for a living, an overpopulated society, that lives in cube city states, has fractured into artistic groups, fornixator addicts, and idle fido watchers. Farmer peppers the text with invented nouns and skips between perspectives in a dizzying way. It sounds as though it would be almost unreadable, but somehow it's not. I think the best approach is just to read it quickly and absorb the underlying meaning almost subconsciously. It's ultimately quite entertaining, and thought-provoking regarding the likely social structures we could be heading towards; however, it is certainly of its time and wouldn't be to everyone's taste. Ellison, in his introduction, suggests this is the finest story in the anthology. I suspect it may be the most experimental, which is not the same thing as best, though experimental and challenging is what Harlan was after, of course.

The Malley System - Miriam Allen deFord
Miriam deFord was 78 when she wrote this, having been writing SF and (mostly) crime fiction since the 1920's, but it doesn't strike the reader as a story written by a senior writer. Starting with a series of truly dreadful crimes seen from the perspective of the psychopathic perpetrators, the story goes on to suppose a possible futuristic method of treatment and punishment (the titular Malley System). It's a solid effort, with a strong conclusion.

A Toy for Juliette - Robert Bloch
This story by Bloch (the 'Stephen King' of the 40's-60's, and author of Psycho) starts a two-part sequence that imagines Jack the Ripper transported through time to a far future; the end of days. While being rather grisly, as one might expect with Bloch, it's a decent story. Ellison so liked to concept, having in fact suggested it to Bloch as a sort of follow on to his classic short story Yours Truly, Jack the Ripper, that he decided to write a sequel to this story for his addition to Dangerous Visions. This is the story that follows immediately after.

The Prowler in the City at the Edge of the World - Harlan Ellison
So, we're back with Jack the Ripper, set in the far future in the final city of man, for Ellison's sequel to Bloch's tale. Ellison notes that he spent 15 months trying to get this story right, and he conducted a huge amount of research on Jack the Ripper to do so. He was obviously quite proud of it. The problem is, it's a further continuation of the theme of psychopathic violence and evil that defined the previous few stories, and its place here in the anthology makes the 'dangerous' element of the book seem like an increasingly narrowly defined, and unimaginative shift from normal SFF. Ellison would have been better to position his story later, or frankly, to have submitted a better story that sought the 'dangerous' moniker in a less obvious and unappealing way. This isn't, to my mind, one of Harlan's stronger stories as he emphasised shock value above everything else.

The Night That All Time Broke Out - Brian W. Aldiss
Harlan's introduction to Aldiss is rather damning with faint praise - one get's the impression he didn't much care for Aldiss, and didn't actually think a whole lot of this off-beat, humorous story. I could be wrong, but the tale is very silly, and lacking in any real sense. In Aldiss' future, most homes are on central gas time, and can set certain rooms to certain times using more of less time gas pressure. This works okay, until there's a time gas leak at a local mine. This sort of thing can be entertaining whimsy when it's done right, but Aldiss misses the bulls-eye on this occasion. And it's hardly a 'dangerous vision' so rather misses the brief.

The Man Who Went to the Moon - Twice - Howard Rodman
Howard Rodman (1920-1985) was a famous screenwriter, predominantly for television, best known for shows such as Naked City (1958) and Route 66 (1960), and he was a mentor to Ellison when the latter moved to Hollywood in the early '60's. This tale is gentle, mild and affecting, and really quite a good short story about how we lost our sense of wonder for the mysteries of the world with the advent of technology. It's not actually "dangerous" and it's not even in fact SF, being a non-genre story. But it is good, so it's appearance in this volume is a slightly odd, but welcome, aberration.

Faith of Our Fathers - Philip K. Dick (Finalist, Hugo Award - Best Novelette)
This novelette is quintessential Dick, with reality being questioned, and perspectives being affected by mind-altering drugs. It's also terrific. In a future in which the communist bloc is essentially ruling large parts of the world (including the US) in a dystopian autocracy, a Party man (Chien) is shown that everyone has been fed hallucinogens in the drinking water, in order that they see their dictatorial leader as a normal, Chinese man. But when Chien is given a drug that blocks the hallucinogen in the drinking water, he finally sees the leader as he really is - or at least as one of twelve possible (and horrific) realities. Highly inventive and gripping, this is a very good story, and shows Dick at the top of his strange, drug-fueled, game.