BLOG ENTRY 29 December 2020
My Year of SF in Review
2020 has of course been a very difficult year for many, with a pandemic virus causing untold harm and preventing normal travel and activities. I've been very lucky to be in New Zealand at this time, and the only impact on my life has been to be house-bound at times. I know I'm lucky. These changes have meant a lot of time for many to read, however, and I'm hopeful that some have taken up reading SF. This year I've read reasonably widely, but I've still focused on 'classic' (i.e. older) SF in the main.
Earlier in the year (and before I started this website) I read several classic SF novels which I am able to heartily recommend including The Stochastic Man by Robert Silverberg, The City and the Stars, by Arthur C. Clarke, Healer by F. Paul Wilson, Merchanter's Luck by C. J. Cherryh, Between the Strokes of Night by Charles Sheffield and Footfall by Larry Niven & Jerry Pournelle. These were all good, and worth seeking out. Two of these probably deserve further mention:

The Stochastic Man, by Silverberg may be my favourite book to date by this author. It posits the question, if you know exactly the time and manner of your death, even if it's years in the future, how would that affect how you lived your life? I love stories that are about something, and this queries a basic fundamental to human life - that the requirement to strive and endure to unknown ends is essential to life's journey and to the value of our existence. In essence, its an existential novel, such as might have been written by Camus. A fine short novel.

Between the Stokes of Night by Sheffield is great, because it's space opera with big and novel ideas. In this book, the method of interstellar travel is enabled by the crew and passengers slowing their body clocks so much that their relative appreciation of time is massively reduced. But eons pass outside the ship. In looking at the relative time shifts between those travelling and those staying in one place, the book looks at how this affects humanity and relationships (in a similar way to Haldeman's Forever War). It was also a great plot and well written - I'll be seeking out more Charles Sheffield in future.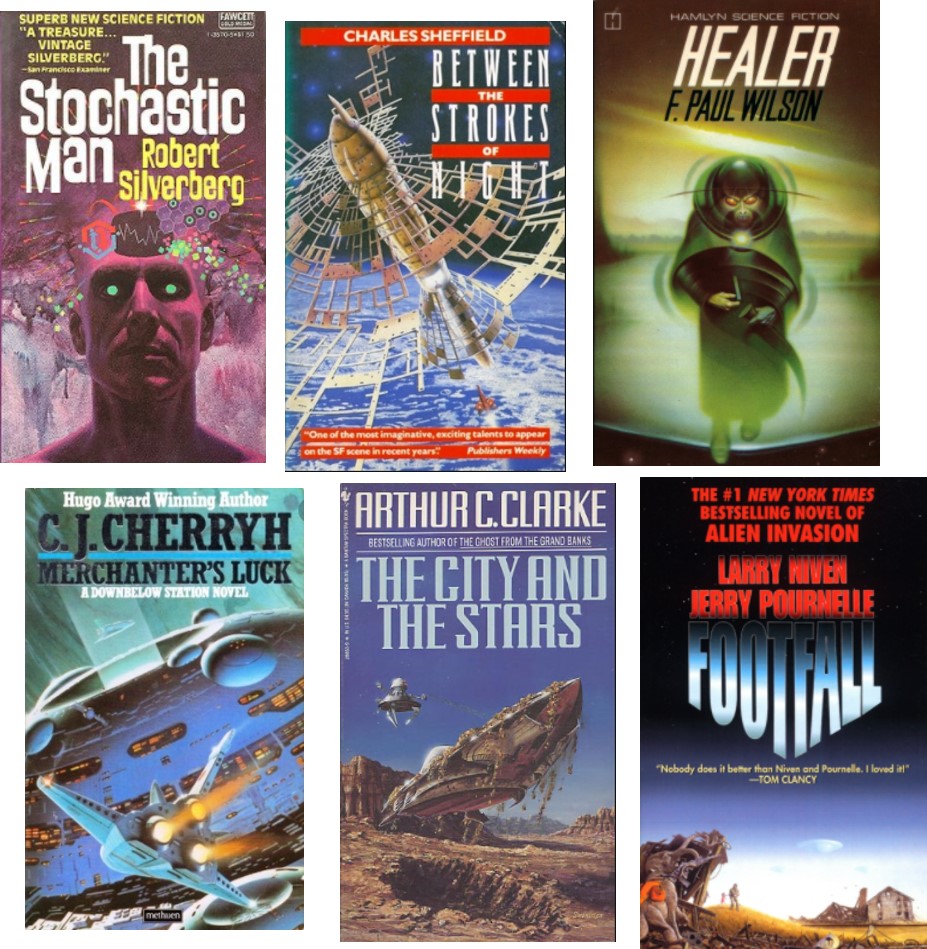 In addition to some great older books, I also read a few newer SF books. The book most worth mentioning here is A Memory Called Empire by Arkady Martine. This is not a perfect book, and falls short of being in my list of all-time favourites, but it did win this year's Hugo Award for Best Novel, and it certainly had positive qualities. The imago devices provide an interesting plot and they are a great SF idea. In addition, the characters are roundly drawn and appealing. There's more than a hint of Cherryh's Foreigner books in the dense political aspects to it, and this will be good or bad, depending on your view of those rather slow books. Much is achieved through subtle influence and pressure by certain individuals upon other individuals to bring big changes in the Empire. This gives the book a sense of depth and maturity, but I'm not sure it quite rings true - political change is actually more complex and harder to redirect than is implied. The apparently fluid sexuality that the main characters display is fine, but to have many of the main characters bisexual seemed unnecessary and artistically suspect. Lastly, my main reservation is in the pacing; while it has periods of excitement, it is patchy in this regard. In short, it read like a first novel, by a talented new author who's still refining her trade.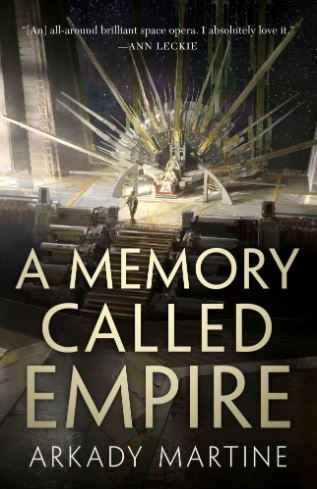 Coronovirus put paid to the usual Worldcon this year (CoNZealand 2020), which was hugely disappointing to me, as it was to be in Wellington, here in New Zealand. I had booked flights down, a hotel, membership of SFWA, etc. Instead, I watched it avidly online. The organisers did a good job providing a virtual con, and I enjoyed what we did get enormously. As mentioned in the original post on the Con, the chats between the likes of Silverberg, Martin, Dann and Haldeman were the highlights for me, and judging from the number of attendees to these online sessions, they were generally popular. One positive outcome to this was that it inspired me to seek out some of George R. R. Martin's earlier SF work. As a result I've read a number of his famous short stories, as well as made a start on the Wild Cards mosaic novels that he edited. Reading this earlier work has reminded me just what a fine writer he is. I became a bit frustrated with his Game of Thrones fantasy books, but his early SF is super - find it and read it if you can.

The Worldcon is the event in which the Hugo Awards are announced of course. They were notable this year, I felt, for two reasons. Firstly, George Martin, as toastmaster, came in for a heap of criticism for mispronouncing the names of some nominees. He was called a racist and other unpleasant things, which I felt was highly unfair. Admittedly, he pronounced several names wrong, but of various people from different nationalities and genders, and there was no suggestion to me he did anything other than make some honest mistakes. In all other ways, he was charming and entertaining as toastmaster - in contrast to the self-serving and highly ungracious speech made by Jeanette Ng which was a disgrace. But the Hugo's and their organisation have got a little lost, it seems to me, with 'diversity' and political correctness being taken to extremes these days. This brings me to the second issue I noticed regarding the Hugo's: the nominees seemed, more than ever, to offer diversity for the sake of it. If you are writing SF from one of the majority groups (e.g. male, white and straight), the message is clear - don't get your hopes up too high. If the nominee stories were all excellent (as they should be) this would be a non-issue - it shouldn't matter a jot to which background or group the authors affiliate of course. Except there are two inconsistencies here: firstly, the short story nominee authors were not actually a very diverse group, but a rather narrow group (predominantly LGBT women) which rather undermines the point of championing diversity; and secondly, the short stories themselves were simply not very good. I didn't rate any of them highly, and I'm quite sure none of them would have won a Hugo Award 10 years ago. This suggests to me they were nominated on the basis of the author, not the story. It's a shame, I think, as there is still good SF out there, but if your face isn't 'diverse' enough, your work seems less likely to achieve recognition in the current climate. I'm hoping this is a temporary trend, reflecting current social pressures and the laudable imperative to undo some of the misogynistic, male-oriented and predominantly white background of SF literature's past. Fairness to all, and genuine diversity, is of course a positive advance, and should be supported. But current efforts in this regard seem to have overshot what was required, and the end result smacks of minority "social-justice warriors" now running the show; it would be nice to see SF work lauded whatever the gender, race, and sexual persuasion - even if that means the author happens to be, for instance, white, male and straight. I live in hope.

Finally, I should note in reviewing the year that I've started to read a lot of old magazines, especially Analog (and now Asimov's) from the 1970's and 1980's. The quality of science fiction in these magazines was truly excellent, and I encourage all to find older issues of these magazines. I've recently re-subscribed to Analog and Asimov's and I'm hoping to get more enjoyment from the current issues in 2021. Reviews of stories and articles from these magazines will continue to appear here (under the magazine tab) over the coming year.