REVIEW & AUTHOR FEATURE 21 March 2022
The Chaos Chronicles - Jeffrey A. Carver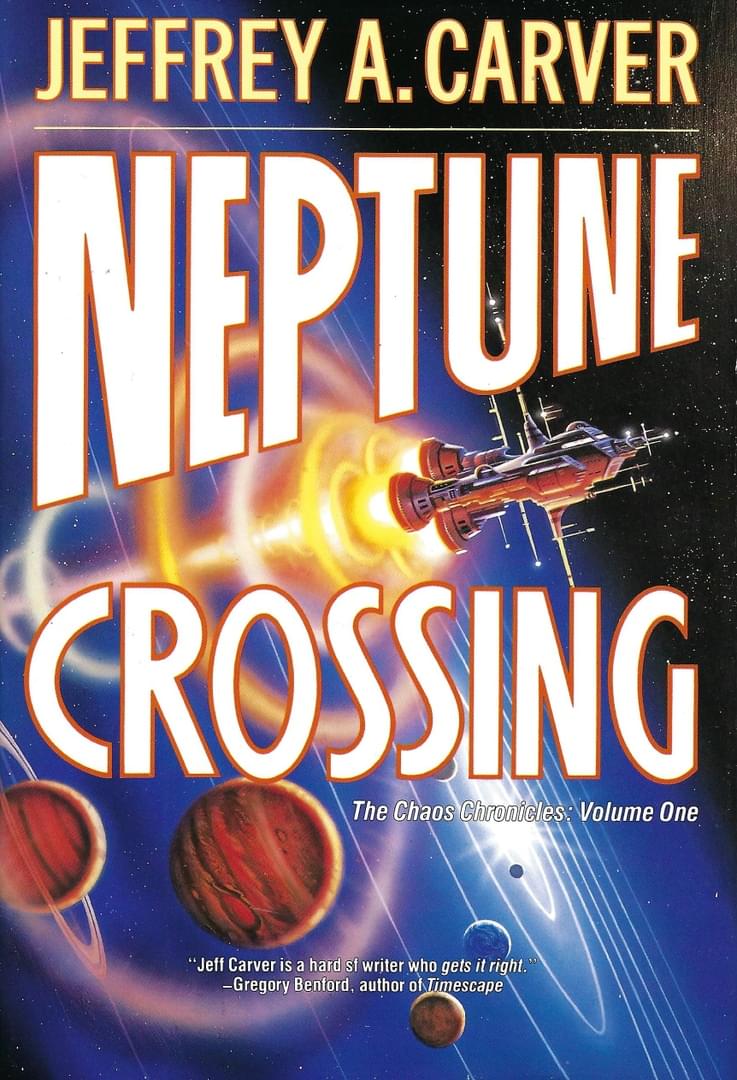 Jeffrey A. Carver is perhaps most well known for his ongoing SF series, The Chaos Chronicles. Currently standing at six books - with a final seventh book currently being written to conclude the adventure - Carver started publishing these books in 1994 with the novel Neptune Crossing, which, like the next 3 sequels, was published by Tor. The first three books, which I just read in signed hardback versions bought directly from the author, were published in rapid succession in the mid 1990's.
Neptune Crossing (1994) is a fun, hard SF novel, set almost entirely on Triton, Neptune's largest moon, and follows the adventures of an ex-pilot, John Bandicut, who finds an alien artifact on a survey run. The nature of the alien 'quarx' that he encounters is inventive and the interactions between them work well. The alien is a dimensionally 'fractal' entity and once encountered, it lives within Bandicut's mind. Once there the quarx alerts Bandicut to an upcoming crisis for humanity, and Bandicut must take steps to try and stave off disaster. The conversational exchanges between the main character and the alien are entertaining and the story cracks along at a good pace.
This is hard SF in a sense, but some of the scientific extrapolations are so far advanced as ideas that the sub-genre is not so simple to categorize. In many ways, this book (and the series generally) strives for that 'sense of wonder' that was prevalent in the extreme speculations of the golden age (or maybe the '60's). More than once, I thought that the authors' works that came most readily to mind as comparators were Arthur C. Clarke and Larry Niven - both hard SF stalwarts, but both interested in exploring extremely advanced technologies in their speculations.
Strange Attractors (1995) takes off directly after Neptune Crossing, and follows Bandicut after he is 'translated' to a strange and enormous construction outside the milky-way galaxy: 'shipworld'. Bandicut joins up with several aliens there who have also been translated from their own star systems for reasons none of them understand. Shipworld is suffering from physical attacks from a fractal 'demon' entity (which the heroes call a 'boojum') that is disintegrating aspects of the world, and threatening millions. The ideas in this book take a quantum leap up in strangeness compared to the first book.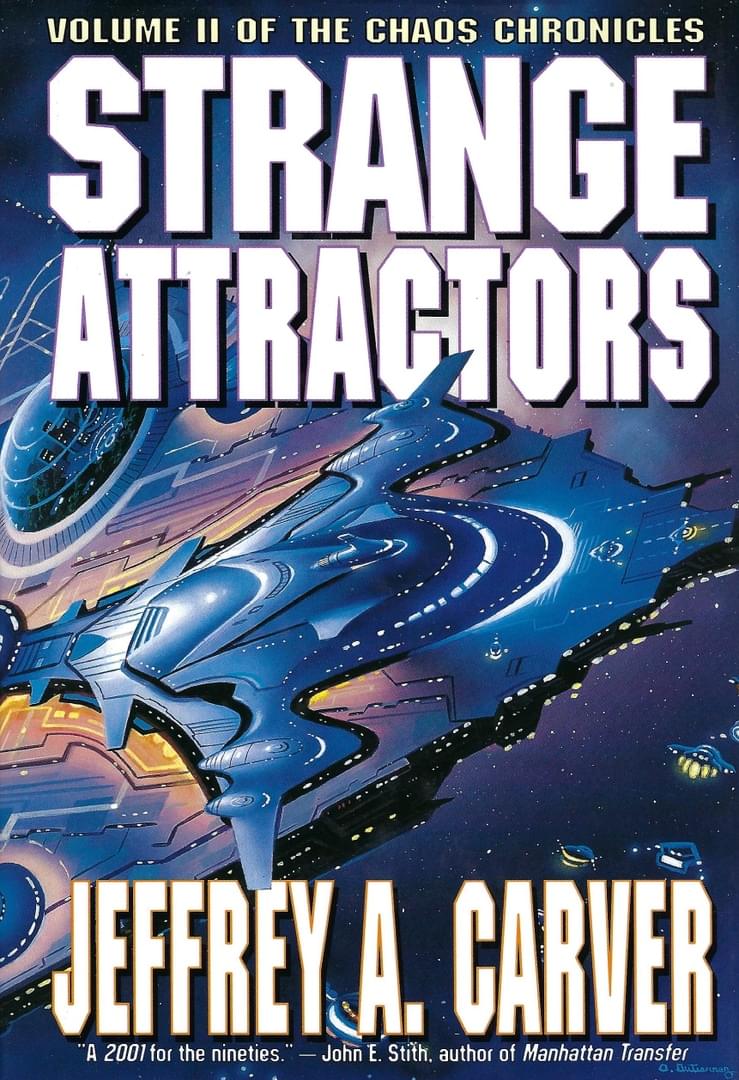 Indeed, Strange Attractors gives a hint to its contents with its title. It's a book in the grand tradition of slightly trippy SF wherein there's a genuine effort to describe a universe that's stranger and more exotic that one might otherwise imagine, like a 1995 version of 2001: A Space Odyssey, or a more advanced sort of 'golden age' book that reaches for a bizarre sense of wonder. This is the kind of SF that is very hard to get 'right', but Carver's efforts are sincere and thoughtful and he makes a decent fist of a tough subject and 'world'. Not enough SF really challenges our expectations or our understanding of the universe, and it was great to read SF that is really different to most of the derivative stuff out there.
The Infinite Sea (1996) follows the same band of heroes (now composed of Bandicut, Ik, Li-Jared and Antares) as they are catapulted along a star-stream conduit back to their galaxy by shipworld. Unfortunately, they find themselves transported within their star-stream bubble somewhere underwater and sinking fast, on another alien planet. At first, this novel strikes the reader as a strange diversion from the main story arc that Carver was drawing in the first two books. However, over time the story makes more and more sense, and by the end, the grander underlying story arc has been well-developed, leaving the reader wanting to learn more of the bigger picture.
Carver is good at building character and inter-relationships, and cleverly avoids the communication difficulties between aliens that might otherwise stultify the reading experience by his invention of 'translator stones' that are a unifying feature of the main characters. This was a good volume in the series - set almost entirely underwater - and sets up the idea of a grand conflict between two distinct 'master races' in the galaxy.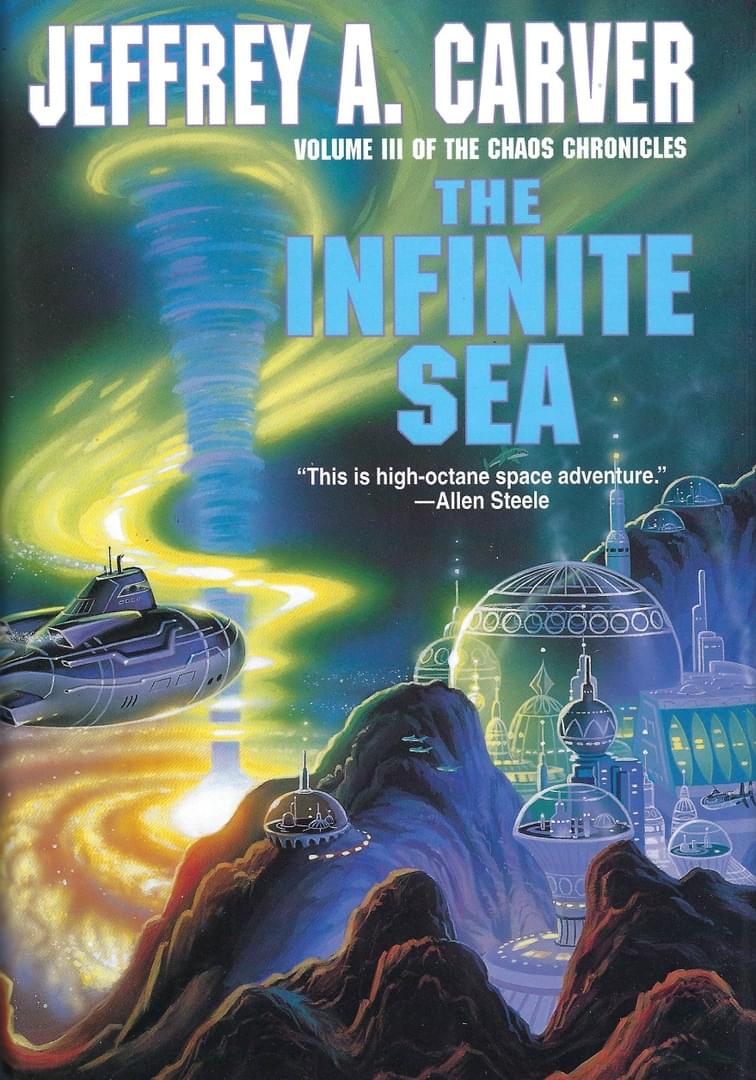 Fans had to wait until 2008 for the fourth book (Sunborn), and the fifth and sixth volumes (comprising the duology The Reefs of Time & Crucible of Time) were only recently published in 2019. Carver has admitted he's a pretty slow writer, but there is a thoughtfulness and skill in his books' construction and plotting, which defends the time he takes. One effect of the long wait between volumes was that, while Sunborn was still taken by Tor, the recent duology arrived after various changes at the publisher and Carver ultimately chose to self-publish them. It seems a slight shame that such good SF, offering a welcome change from the military space opera crowd, had to be self-published. I have all three of the other published books in the series, and will certainly be reading them shortly.

The Chaos Chronicles are not Carver's only SF output of course. He has penned many other successful novels, notably including the six-volume Star Rigger universe series, and well regarded standalone novels such as The Rapture Effect. The sixth volume of the Sar Rigger series, Eternity's End was nominated for the 2002 Nebula Award for best novel. I have not read these books yet, but look forward to trying them. His bibliography can be found here, and his own blog is entertaining and worth a read.