BOOK SERIES REVIEW 30 October 2021
Isaac Asimov - Elijah Bayley Robot Stories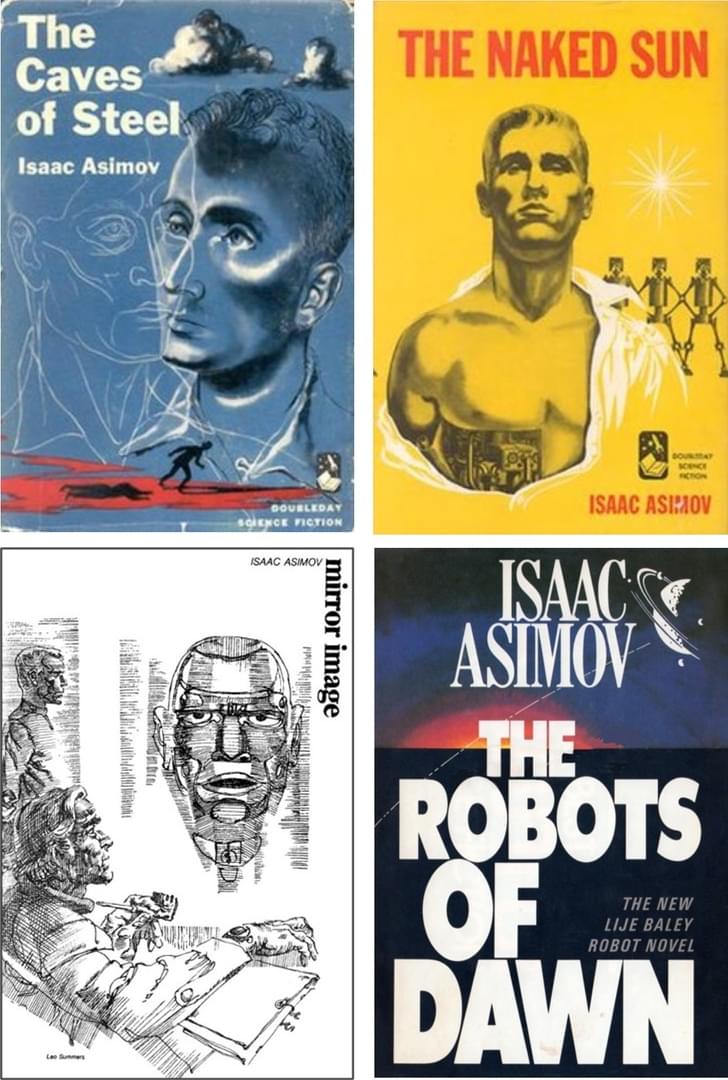 Asimov started his robot stories in short form, chronicling the development of robots and their three laws with numerous stories involving the great early roboticist, Susan Calvin. These were largely written in the 1940's. But when he finally came to explore his three laws of robotics in novel format from the mid-1950's onward, he introduced the human detective character, Elijah Bayley. His colleague in all these stories was the 'humaniform' robot R. Daneel Olivaw. I recently re-read all 4 stories in which Bayley is the principal protagonist and offer a few reflections here.

The Caves of Steel (novel, 1954) is set a few thousand years into the future, and introduces the readers to Elijah Bayley. The detective, like all humans on Earth lives in a completely enclosed, largely underground, New York, afraid to go outside. He is asked to investigate the death of a 'spacer' at the space-town outside the city, and receives help from the humaniform robot Daneel to solve the seemingly impossible case. The novel is a classic of the genre, conveying well the claustrophobia of a future in which humans restrict their experience of the world. Asimov's skill at mystery plotting, and ingenious use of the 'three laws' of robotics add to the readability and enjoyment.
The Naked Sun (novel, 1956) sees Bayley leave Earth (the first Earthman to do so for hundreds of years) to travel to the spacer world of Solaria to try and solve the riddle of another mysterious murder. The world of Solaria - in which very few inhabitants live in isolation, shunning direct contact with other humans, and tended by thousands of robots each - is a fascinating construction, and allows Asimov to weave another intriguing plot. If anything, this is even superior to The Caves of Steel, as Asimov explores human contact and motivation in a fresh way, extending his range from his earlier work.
Mirror Image (short story, 1972) is the only short piece of fiction starring Elijah and Daneel. Asimov had been pressured for years to write further robot stories involving these characters and ultimately published this in Analog, sixteen years after The Naked Sun. Daneel comes to Earth to ask for Bayley's help in solving a problem between two mathematician passengers on a spaceship, each of whom claim to have had the exact same mathematical discovery at the same time. It's a terrific short story, and the prodigious intellect of Asimov is readily apparent.
Robots of Dawn (novel, 1983) is the third and final novel in which Elijah Bayley stars. Asimov recalls that, when he finally provided a further Elijah/Daneel story in 1972 with Mirror Image, he received lots of letters, essentially saying "thanks, but we meant a novel!". It took a further nine years for him to publish what his fans were after, but it was worth the wait. The first thing one notices when picking up The Robots of Dawn, is that its more than twice the length of the earlier novels, and at times it does seem a touch padded and bloated. The length was in response to his publishers request to meet more modern expectations, apparently. The second thing of note, is that Asimov has written a story where sex is front and centre to the plot, and accordingly is discussed on many occasions. Asimov was criticized at times regarding his earlier work for the paucity of strong female characters and lack of attention to adult themes such as sex. Clearly he thought, "I'll show 'em"! In this novel, Elijah travels to the planet Aurora, to try and solve the case of the 'death' of the 'humaniform' robot, Jander. He's again aided by Daneel, meets Gladia once more (the female lead character from The Naked Sun), and we are introduced to the interesting new robot character, Giskard. Asimov's attempts to explore sexual mores are laudable and partially successful, though addressing these sort of themes are not a strong suit of his. His strength lies in logical and immersive plots, and while their are some scenes that come across as padding, the final scenes are highly successful.

Interestingly, Asimov clearly had it in mind to link the robot stories with the Empire novels and Foundation books by the time he wrote The Robots of Dawn. He references the idea of 'psychohistory' in the book (invented by the robotocist Fastolfe) and sets up the development of a human Empire. There was a further novel that linked the series even more tightly: Robots and Empire (1985), set a few hundred years after Elijah Bayley's death. It's a decent novel, and further involves both Daneel and Giskard, and references Elijah Bayley many times, though he does not feature as a contemporary character of course.